Flugzeug-Telemetriedaten
Mit Hilfe von Telemetriedaten, die von einem großen Teil der Flugzeuge übertragen werden, lassen sich ihre Flugbahnen berechnen. Die Daten werden im Automatic Dependent Surveillance (ADS) Format (vgl. 1) vom Transponder der Flugzeuge gesendet und mit einem Funkempfänger an ein Computersystem weitergeleitet und dort aufbereitet.
Die interessanten Daten sind
Flugzeugkennung,
Ortsdaten,
Flughöhe,
Geschwindigkeit und
Sink- bzw. Steigrate,
die im Extended Squitter übertragen werden.
Die Positionsdaten werden meist durch eine Kreiselplattform erzeugt. Sie unterliegt einem geringen Drift, je nach Güte des Systems. Um dem entgegenzuwirken wird im Flugzeug mittels Funkpeilung ein Korrekturvektor ermittelt, aber leider nicht über ADS-B übertragen.
Der Betrieb eines ADS-B-Empfängers war bis zum 31.12.2016 in Deutschland legal (vgl. 2). Durch eine Änderung des Telekommunikationsgesetztes(TKG) zum 01.01.2017 herrscht im Moment Rechtsunsicherheit. Die unberechtigte Zurkenntnisnahme von Funkverkehr ist unter Strafe gestellt worden. Wie eine Berechtigung zustande kommt ist jedoch vom Gesetzgeber nicht klar ausgeführt.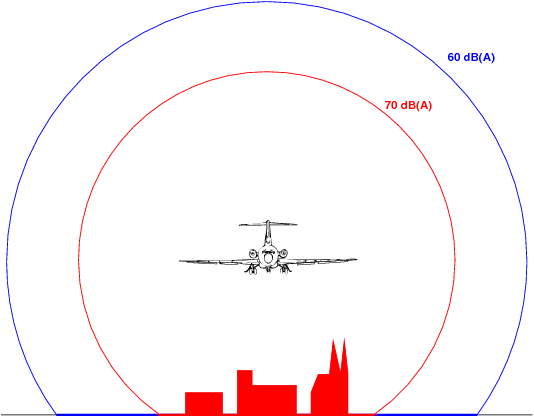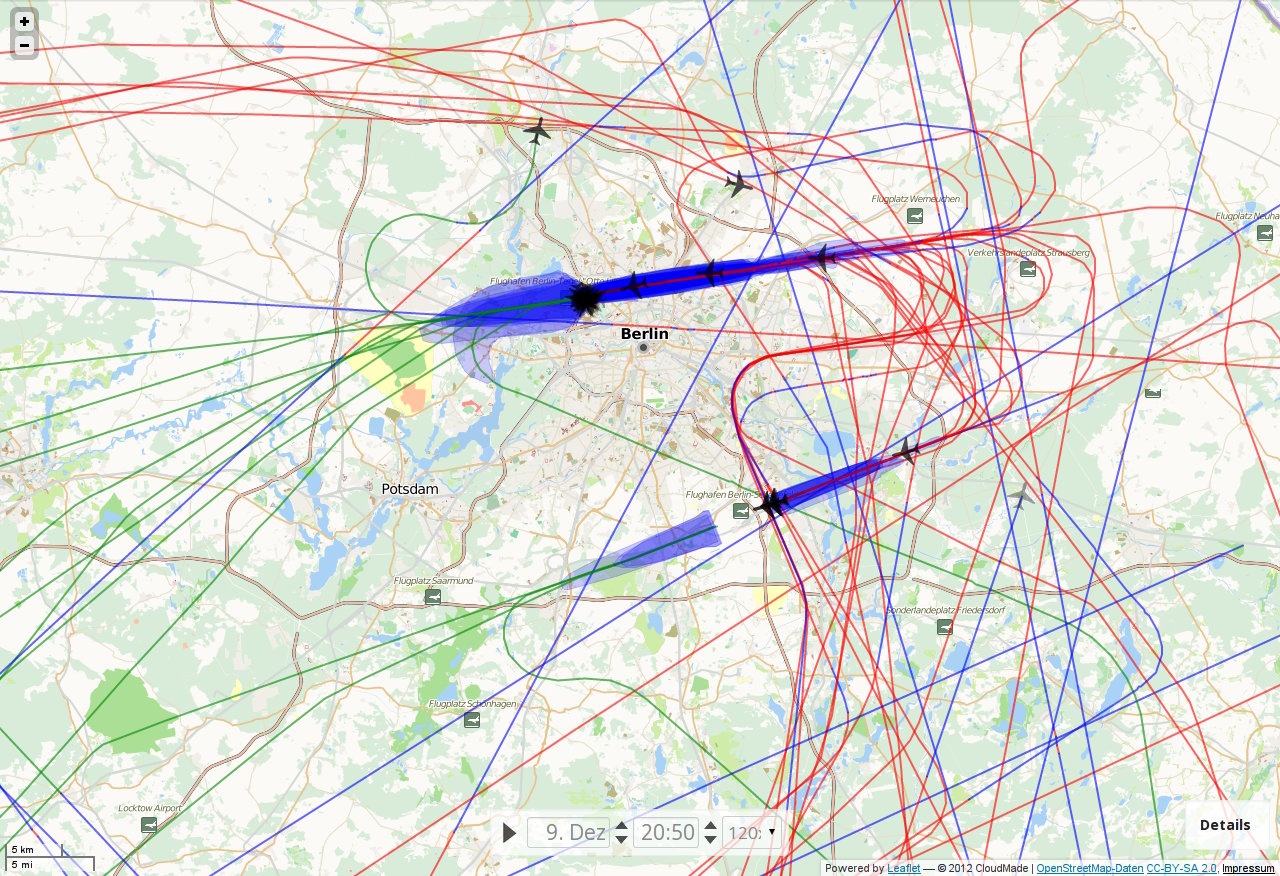 Simplified Noise Model
The calculation of noise accounts for the following data:
Aircraft Type
Location Data
Altitude
Speed
Climb Rate
Phase of Flight (for example, start, level flight, landing)
The aircraft type is used to calculate aircraft-specific data such as air resistance, landing weight, engine characteristics and specific noise emission characteristics from tables (cf. 3, Section 4.2).
The flight phases are determined from a series of position and velocity data.In each phase of flight a typical aircraft engine power is assumed.These are
in the starting phase from 0 to 1500ft altitude full thrust (TOGA)
in the starting phase above 1500ft a reduced thrust (MaxClimb),
in the horizontal flight and descend at a speed of more than 230kN is assumed that the wing flaps and landing gear are retracted,
in the horizontal flight and descend at a speed of less than 230kN is assumed that flaps and landing gear are extended.
For the last two cases is an aircraft-specific air resistance used calculate the according the thrust setting. (
cf. 3, Appendix B10
)
Here, the maximum permissible landing weight of the aircraft type is applied,because the actual landing weight for reasons of efficiency is only slightly below the maximum landing weight.
The determined engine power can be used in turn by a noise level table to calculate the noise level at a defined distance from the aircraft(cf. 3, Section 4.2).A spherical noise source is assumed to simplified the noise model.In this case the maximum noise impact on the environment occurs at a right angle to the trajectory.In the event that the sound approaches the ground shallower than 50 °, an additional damping is taken into account(cf. 3, section 4.5.4).